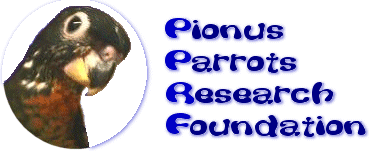 ---
The following is a depressing discussion of what is happening to Andean habitats - habitats where at least 4 Pionus species were regularly seen in decades past. We're only posting the summary of the paper here with the permission of the authors. You can download the entire report (including maps and photographs) at http://www.proaxis.com/~salaman/eba.html
---
COLOMBIAN EBA PROJECT REPORT NO.3:

SERRANÍA DE SAN LUCAS

Presenting the first biological assessment of Serranía de San Lucas, 1999-2001

by

PAUL SALAMAN, THOMAS DONEGAN, CARLOS GONZALEZ, JAVIER BUSTOS, AND ANDRES CUERVO

edited by

PAUL SALAMAN & THOMAS DONEGAN

in collaboration with

INSTITUTO DE CIENCIAS NATURALES, UNIVERSIDAD NACIONAL DE COLOMBIA UMATAMS OF SAN PABLO, SANTA ROSA AND PUERTO LOPEZ MUSEO DE DEPARTAMENTO DE BIOLOGÍA, UNIVERSIDAD DE ANTIOQUIA HISTORIA NATURAL, UNIVERSIDAD DEL CAUCA CORANTIOQUIA
SUMMARY
Serranía de San Lucas is an isolated and biologically-unknown 110 km long mountain range, rising from sea level to c. 2,700 m in the departments of Antioquia and Bolivar, Colombia. The Colombian EBA project gained the first ever access to undertake biological surveys above 1,000 metres from March-April 2001. Surveys were conducted between 1,000-1,400m elevation and in the lowlands on the western and eastern slopes of the range.

A total of 374 bird species were recorded in Serranía de San Lucas using observation and mist-netting. Avifauna assemblages showed distinct differences between two lowland and two highland (subtropical) study sites. A total of 11 Threatened and near-threatened species were recorded and 100 species recorded represent major range or altitude extensions. The first ever botanical collections were taken from the Serranía and a high concentration of threatened mammals are reported, including a substantial range-extension for Spectacled Bear. The project results highlight the Serranía de San Lucas' global importance for biological diversity.

Serranía de San Lucas has been subject to a massive environmental and human catastrophe in recent years on an unimaginable scale - unlike anywhere else known to the fieldworkers in Latin America. This has been compounded by a combination of critical political and human factors:

unprotected natural resources undergoing uncontrolled exploitation;
the discovery of massive gold deposits in the 1990s;
one of the world's core coca production areas aggravated by intensive glyphosate fumigation efforts;
the commandand control centre of the ELN guerrilla - a military target of paramilitary groups.

This combination has resulted in uncontrolled ecological damage and almost complete outside neglect. Despite the highly complicated problems of political instability in San Lucas, all sides welcome conservation work here. The paramilitary are strongly opposed to the fumigation of coca and the ELN guerrillas who control the San Lucas highlands have restricted hunting and have protected forest. Forest disturbance has marginally decreased with increased use of landmines, but has suffered greatly from fumigation.

There is a critical need for conservation action in Serranía de San Lucas. We propose a 5-point strategy:

Immediately stop fumigation.
Implement community environmental education and awareness programmes.
Protective measures I: conservation of the southern Serranía as a Bi-Departmental Natural Reserve.
Protective measures II: official conservation of La Teta - already protected by the ELN.
Further rapid biological surveys are urgently necessary in the higher elevation cloud forests of La Teta.

We shall continue to achieve these goals in liaison with the local communities of Serranía de San Lucas.
---
You can download the entire report (including maps and photographs) at http://www.proaxis.com/~salaman/eba.html
Last updated 07/16/2001
©2000-2001
Pionus Parrots Research Foundation
Send Us Mail!