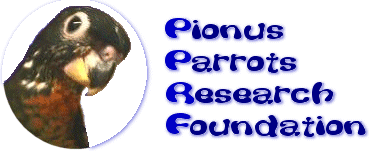 ---
Jump to the membership form.

While it's true that there are several groups who support Pionus parrot conservation efforts, the PPRF is the only organization in the world dedicated to performing and funding primary research on Pionus parrots. Conservation is vitally important, but the PPRF's stand is that until we know more details about the natural life of these birds, it's entirely possible that conservation efforts could be ineffective.

Our first trip to Ecuador provided us with some suggestion that Pionus parrots may not be the agricultural pests that many assume them to be. Continued research may very well provide the data needed to change farmers' opinions about these birds.


assorted Pionus parrot breast feathers
We ask you to consider making a contribution, joining our Foundation, or even agreeing to participate in future field work.. Those joining the foundation will receive a newsletter (published once a year - more frequently once we can sponsor several field studies per year). Members also have access to all of the data accumulated by the Pionus Parrot Research Foundation as well as the members-only message board area that will open shortly at this website. If you are a bird researcher, student, or interested amateur, you can apply to join one of our fieldwork teams.

Once our tax-exempt status is granted by the IRS, all contributions will be tax deductible in the US.
---
We're sorry, but this form is not working right now. For membership information, please send email to our Membership Secretary.
PPRF Membership Form
Last updated 11/09/2003
©2000
Pionus Parrots Research Foundation
Send Us Mail!