WE NEED YOUR HELP!

Click

here

.
---
---
New Research Papers
Here!

Incredible Photos Here

Preliminary Study Report

Here

!

Request A Newsletter

Here!
Welcome to the Pionus Parrots Research Foundation web site!
The Pionus Parrots Research Foundation was founded in 1999 with these goals:
conduct, support, and fund joint amateur and professional primary research on parrots of the Pionus species

disseminate research results to both the scientific and avicultural communities and also serve as an electronic clearing house for all Pionus-related information

cooperate with other organizations in the pursuit of Pionus parrot knowledge by any means approved by the Directors
Research

Bronze-winged pionus feathers
The PPRF conducted a preliminary study in Mindo Ecuador in November, 1999 concentrating on three species: Pionus chalcopterus (Bronze-winged parrot), Pionus sordidus (Red-billed parrot), and Pionus seniloides (White-headed parrot). A two-part general interest article about the trip was published in The Original Flying Machine (No longer available online) in its July and September 2000 issues.

A second trip in January/February 2001 examined the breeding behaviors of wild Bronze-winged Pionus parrots.

Subsequent visits have confirmed original sightings and deepened our understand of the three species which regularly visit the valley. Accordingly, we have organized a formal study to begin in Summer of 2004.

Click here to read important research about isues which affect the lives of wild Pionus parrots.
Pionus Information

The PPRF is building the most complete reference resource of Pionus Parrot information available anywhere. This area is also under construction, but please visit our links page to view a list of links to other sites from all over the world. If you have a Pionus page and do not see it listed, tell us.

In addition to links, we will host a chat board where PPRF members can ask questions, share experiences, and learn of new activities of the PPRF. For more information about becoming a PPRF member, click here


                    White-capped wing feathers
Want To Link To The PPRF?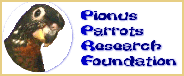 Help spread the word about our projects. Let visitors to your website learn about the PPRF and use
the resources of our links pages. It's easy!
To begin, copy the miniature logo logo by placing your mouse cursor on it and right clicking.
Then choose Save Image and save the image on your hard drive. Next, open up the web page where
you'd like to place the link and type


Replace the word PATH with the path to the graphic on your web server. That's all there is to it!!
©2000-2017
Pionus Parrots Research Foundation
updated 01/01/2017
Like this counter? Check out
Digits.com